It's happened. Cam Jordan is officially the Saints' all-time franchise sack leader, dethroning the great Rickey Jackson.
In this story:
New Orleans Saints
The Saints have a new franchise sack leader, and it's Cam Jordan. He entered Sunday trailing Rickey Jackson by 2.5, and notched 2 sacks in the first half against the Eagles. It was the 27th multi-sack game of his career. He got the final one late in the fourth quarter on Gardner Minshew.
Saints All-Time Sack Leaders
Cam Jordan – 115.5
Rickey Jackson – 115.0
Wayne Martin – 82.5
Pat Swilling – 76.5
Will Smith – 67.5
New Orleans originally drafted Jordan in 2011 with their 24th Overall selection, and he's only missed two games in his career – one due to COVID, and one to an actual injury (eye). What he's done in his time with the black and gold is quite something, and he has solidified a place in franchise history.
---
Saints-Eagles Coverage From the Week
Saints Inactives List: Week 17
The Bayou Blitz Pre-Game Show: Saints vs. Eagles| Week 17
Report: Saints Starters Return From Injuries, Expected to Play Against Eagles
Saints Running Game Needs to Bully Physical Eagles Defense
Saints Pass Defense Must Shut Down Big-Play Eagles Attack
Saints Elevate Two Players for Week 17 Eagles Matchup
Saints Fantasy Football: Start'em or Sit'em – Week 17
Saints X-Factors vs Eagles | Week 17
Saints Final Injury Report for Week 17
Saints Run Defense Must Withstand Eagles Onslaught for Upset
Saints Passing Attack Needs Production Against Formidable Eagles Defense
Saints vs. Eagles: What to Watch For
NFL Top-5 Power Rankings | Week 17
Saints Updated Playoff Scenarios – Week 17
Latest Saints News
Updated 2023 NFL Draft Order After Week 17
Saints Coach Dennis Allen Announces Week 18 QB For Panthers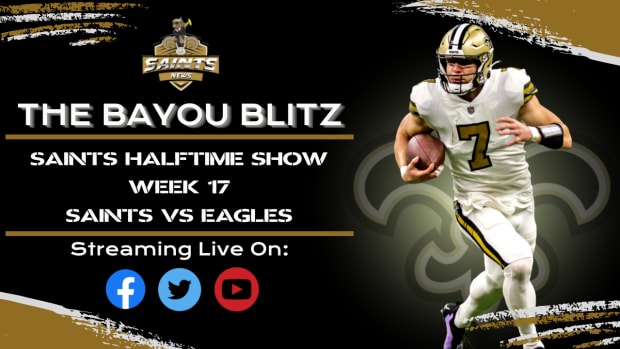 The Bayou Blitz Halftime Show: Saints vs Eagles | Week 17
Game Balls From Saints New-Years Win Over Eagles
Saints Eliminated from Playoff Contention After Packers Win
SAINTS NEWS NETWORK NEWSLETTER
In-Depth Analysis,
Unrivaled Access.
Get SNN's
Best Stories, 3 Days a Week.
Sign Up Now